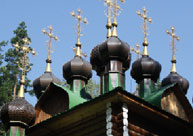 EKATERINBURG
Exhibition Centre CHSC "Russia"

14–16 MARZO
"Build Ural"-International Architectural and Building Exhibition
14–16 MARZO
"Expo Build Ural Russia"–Building Exhibition
APRILE–data da definirsi
"Junwex Ekaterinburg" - Jewelry Wholesale Fai
06–08 SETTEMBRE
"Agro-Industrial Forum"-Exhibition of modern goods, technologies, materials for agriculture
SETTEMBRE–data da definirsi
"Universal Security 2017"-Exhibition Universal Security, IT technologies, Labor Protection
OTTOBRE–data da definirsi
Big Ural Construction Complex"-Specialized international exhibition of modern technologies, equipment and materials for industrial and civil building
NOVEMBRE–data da definirsi
"Power & Electrical Technology. Light Engineering"-International specialized exhibition of Power & Electrical Technology, Light Engineering
NOVEMBRE–data da definirsi
"Metal-Working. Fastening. Instruments"-International Specialized Exhibition of Metal-Working, Fastening, Instruments making
NOVEMBRE–data da definirsi
"Welding. Monitoring And Diagnostics (Testing)" - International specialized exhibition & conference of Welding. Equipment and technologies for electric arc welding of metals - Overlaying and spatter - Plasma, laser, gas-fired welding and cutting...

KAZAN

01–05 MARZO
"Fashion & Style. Kazan"-Specialized Fair and Sale. Clothes and footwear for adults and children. Headwear. Leather and fur goods. Textile and leather. Accesories. Goods for children. Jewelry. Cosmetics and perfumery. Gifts and souvenirs. Household goods. Health goods.
14–16 MARZO
"Energy. Resource Saving" - International Specialized Exhibition. Energy equipment and technologies. Hydro, heat, electric energy. Alternative energy and small energy. Resource-saving and energy efficient technologies and equipment
25–28 APRILE
"Volgastroyexpo" - International Exhibition of Building & reconstruction technologies.
02–05 GIUGNO
"Intermebel"-International Exhibition of Furniture. Furniture for residential and public premises.
14–18 GIUGNO
"Jewelryexpo. Kazan"-Exhibition of Jewelry. Antiques. Watches and clocks. Equipment and tools. Package and accessories. Jeweler's security
06–08 SETTEMBRE
"Tatarstan Oil, Gas And Petrochemistry Forum"-Oil, Gas and Petrochemistry Forum
06–08 SETTEMBRE
"Plastic & Rubber-Kazan"-Specialized Exhibition. Machinery and equipment for manufacture and processing of plastic and rubber and their remains.
04–06 OTTOBRE
"Dortransexpo"-Specialized Construction, Roads and Road Complex Maintenance Exhibition.
18–20 OTTOBRE
"Health Industry-Kazan" - International Specialized Exhibition. Sports medicine. Healthy lifestyle (fitness clubs, swimming pools).
18–20 OTTOBRE
"Beauty Professional"-Specialized Exhibition. Perfumery, cosmetics, equipment for beauty salons. SPA, tanning beds.
22–24 NOVEMBRE
"Clean Water. Kazan"-Specialized Exhibition of Water treatment.
06 – 08 DICEMBRE
"Mechanical Engineering. Metalworking. Kazan" - International Exhibition of Technologies, equipment
06 – 08 DICEMBRE
"Technowelding" - Specialized Exhibition of Equipment and technologies for welding and thermal cutting.
20 – 24 DICEMBRE
"New Year Fair " - Universal Fair of Goods and Services. Clothes, footwear, headwear, leather and fur items.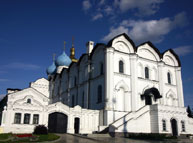 PERM

2–26 FEBBRAIO
"Fair of Folk Handicrafts"-11th International Exhibition-Fair of Crafts and Arts and Crafts
23–26 MARZO
"Real Estate Fair"-16th International Exhibition of Residential, Suburban and Commercial Real Estate
07–11 APRILE
"All-Russian Fair in Perm"-All-Russian Fair of Products of Enterprises in Russian Regions
13–16 APRILE
"Hunter and Fisherman. Active Tourism"-12th International Exhibition-Fair of Goods and Services for Hunting, Fishing and Active Rest

UFA

28 FEBBRAIO–02 MARZO
"StroyTechExpo. Housing and Public Utilities. Road Building" - Specialized Exhibition
01-04 MARZO
"Education. Sport. Career"-17th Specialized Exhibition
14–17 MARZO
"Agrocomplex-2017"-27th International Specialized Exhibition
23-26 MAGGIO
"Gas. Oil. Technologies 2017"-Gas & Oil Technologies Expo and Conference
20–23 SETTEMBRE
"Specialized Machinery and Equipment Transport Systems"-Specialized Exhibition
17–20 OTTOBRE
"Urals Energy. Heating. Lighting. Cable"-Specialized Exhibitionn
14–16 NOVEMBRE
"Forum of Tourism and Hospitality Industry. Cleaning Industry-13th Specialized Exhibition
15–17 NOVEMBRE
"World of Motherhood and Childhood" Specialized Exhibition
y
IRKUTSK

22–25 MARZO
"Industry Of Beauty"-Industry of Beauty Exhibition
11–14 APRILE
"Transport And Roads Of Siberia-Special Equipment" - Specialised exhibition of road-building complex, transport and machinery
18–21 APRILE
"Siberian Food Products Packing & Equipment"-International exhibition for the promotion of food and drinks products, raw materials, equipment and technologies for its production, packaging, commercial equipment
26–29 APRILE
"Baikal Construction Week"
Exhibition of Construction Technologies, Equipment, Materials and Services
SETTEMBRE–data da definirsi
"Furniture"-Specialized exhibition of equipment, technologies, materials and production of furniture industry.
10–13 OTTOBRE
"Exhibition "Energy Efficiency. Housing and Public Utilities"-20th Exhibition of Technologies and Equipment for Power Industry, Gas Distribution, Electrical Engineering, Energy-saving Technologies
24–27 OTTOBRE
"Agricultural Week"-Agricultural Week
01–04 NOVEMBRE
"Real Estate Fair. Mortgage. Credits" - Specialized Exhibition
12–19 DICEMBRE
"Comfortable House. New Year's Gift Fair"-This exhibition will help to choose gifts, home decorations, festive services, apparel and accessories and many other things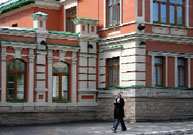 NOVOSIBIRSK

14–17 FEBBRAIO
"Aqua-Therm Nobosibirsk"-International Trade Fair for Heating, Sanitation, Climate Control, Building Technologies
16–18 MARZO
"Hobbytime Siberia"-Specialized exhibition of hobby, interests and craft
28–31 MARZO
"Sibmetal"-Specialized Exhibition of Metalworking Equipment and Technologies
28–30 MARZO
"Sibreklama-Sibadvertising"-Exhibition of the Equipment and Materials for Printing, Advertisement, Design, Information and Polygraph Services, Office Equipment and Accessories, Business goods
28–31 MARZO
"Mashex Siberia"-International Specialized Exhibition of metal wares, metal processing machines, equipment, tools and technologies. Welding equipment. Metallurgy
12–14 APRILE
SIBFOODEXPO
"Sibfoodexpo"-International Specialized Exhibition of Food Products, Food Concentrates, Raw Materials and Technologies
13–16 APRILE
"Hunting And Fishing Siberia"-Exhibition of goods and services for hunting and fishing
APRILE–data da definirsi
"Country & House Expo"-Exhibition of cottage construction and residential finishing, life support system and landscaping
MAGGIO–data da definirsi
"Dentima Siberia" - International Dental Exhibition
10–20 MAGGIO
"Sibbeauty"-International Specialized Exhibition of Perfumery, Cosmetics, Hair-dressing and Cosmological Equipment and Accessories
24–26 MAGGIO
"Autosib"-International Exhibition of automotive parts, car chemicals, accessories and car maintenance equipment
27–29 SETTEMBRE
"Securika Siberia"-Exhibition of equipment, systems and facilities providing human life safety, security and protection
OTTOBRE–data da definirsi
"Sibfurniture. Interior Design"-International Furniture Salon
NOVEMBRE–data da definirsi
"Siblogistics"-International Specialized Exhibition of Logistic Services, Warehouse Technologies, Customs Clearance Service
08–10 NOVEMBRE
"Sibpack"-International exhibition of packaging, bottling and labeling equipment
NOVEMBRE–data da definirsi
"Moda & Textile"-International Exhibition of Fashion and Textile Goods

KRASNODAR

28 FEBBRAIO–03 MARZO
"YugBuild/WorldBuild Krasnodar"-
The 27th International exhibition of building and finish materials
29 MARZO–01 APRILE
"Umids Krasnodar"-Exhibition of equipment, technologies, materials and products for logging, wood processing and furniture industry
25–27 APRILE
"Vinorus Vinotech"-International trade fair for wine, beverage, technology, raw materials and wine-making equipment
28 NOVEMBRE-01 DICEMBRE
"YugAgro"-International Fair of Agricultural Economics